Warning to Parents: 100 Deadliest Days for Teen Drivers Has Begun
For teens, the summer months means fun with friends and summer vacation. With the summer upon us, it's important for both parents and teens to be reminded that we are entering the "100 Deadliest Days of Summer."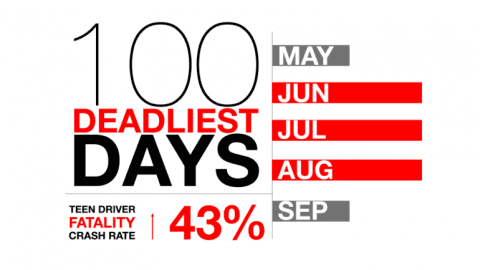 Did you know that more than 1,050 people were killed in crashes involving a teen driver in 2016 during the 100 Deadliest Days, which is the period between Memorial Day and Labor Day. That is a staggering statistic, seeing as it is an average of 10 people per day. It's also 14% more traffic deaths than the rest of the year.
As school lets out for the summer, AAA and Manchester Honda want to stress the importance of preparing and educating inexperienced teen drivers for some of the most dangerous driving days of the year.
"The number of fatal crashes involving teen drivers during the summer is a important traffic safety concern and research shows that young drivers are at greater risk and have higher crash rates compared to older and more experienced drivers," said Dr. David Yang, AAA Foundation for Traffic Safety Executive Director.
In preparation of the dangerous summer driving period,  Manchester Honda wants to encourage parents to educate their teens and themselves about risky driving behavior.
Discuss with teens early and often the dangers of risky driving situations, such as speeding and nighttime driving. There's been a 22 percent increase in deadly-teen-driver involved crashes at night.
Amy Parmenter, spokesperson for AAA in greater Hartford notes, "The number of fatal crashes involving teen drivers during the summer months is a significant concern for AAA and our traffic safety partners across the state."
In Connecticut, more than 40 people were killed over the last five years in those crashes, 12 just last summer. Thus, Manchester Honda are here to provide you in future blogpost with information and ways to keep your teen driver safe during the summer months.