Discover Manchester Honda
When You're Ready. We Will Be Here. Online or In-Person.
Discover Manchester Honda
When You're Ready. We Will Be Here. Online or In-Person.
Dan was my sales man and he was amazing. He wasn't pushy, gave me all the facts, and was extremely accommodating and responsive when I was having issues with my trade in car. 10/10 would recommend Manchester Honda for your new car purchase!
Can anyone claim to have a better place for service and sales. If so, tell me, as I have not found better. "Tip of the Top" they are. Just got a new XL 150. Adding it to the fleet.
Great service and an even better group of salespeople. Pablo and James were top notch, from start to finish. Once again, I appreciated doing business with Manchester Honda.
I recently had the pleasure of working with Manchester Honda, and I couldn't be more impressed with the exceptional service I received. From the moment I reached out to them, my experience was nothing short of remarkable. I had the privilege of interacting with some incredible professionals throughout my journey. Chris Watts, their purchasing agent, stood out for his complete transparency and fairness. His dedication to ensuring I received a fair deal was truly commendable. Chris went above and beyond to address all my queries and concerns, making me feel valued and respected as a customer. I also had the pleasure of working with Doug Saucier, one of the sales managers. Doug's professionalism and customer-centric approach were evident in every interaction we had. He took the time to understand my needs and preferences, ensuring that I was comfortable and informed throughout the process. My initial contact with Emilia Quinn from the BDC department was equally impressive. Emilia was courteous, prompt, and displayed a high level of professionalism. Her exceptional communication skills and dedication to customer satisfaction set a positive tone for my experience with Manchester Honda. My decision to do business with Manchester Honda was primarily influenced by the genuine care and understanding they showed me. I needed to sell my car due to an upcoming cross-country move, and I was hoping to find a local dealer that could offer a fair price. Having been in the car industry for years, I've encountered situations where individuals seeking to sell without purchasing are often treated with disregard. However, Manchester Honda's approach was a refreshing change. Their willingness to work with me and provide a fair deal, even without the purchase of a new car, speaks volumes about their integrity and commitment to their customers. This dealership truly goes the extra mile to ensure customer satisfaction, and I couldn't be happier with my experience. Thank you, Manchester Honda, for your outstanding service and the positive impact you've made on my car-selling journey. Your team's dedication to excellence is truly commendable, and I highly recommend Manchester Honda to anyone seeking transparency, fairness, and a customer-centric approach in the automotive industry. Warm regards, Anton G
I had a great experience at the Honda dealership. My sales representative, Pablo, came through for me once again. Recommended everyone to check them out.
Service department is awesome- they were very helpful today
A good place to buy a vehicle and have it serviced.
Bought my Car from Kelvin!! He was the best! Made my car buying experience the best I've ever had, made me laugh the whole way through. Totally recommend Manchester, Honda and Kelvin.
Literally the best Honda Dealership to get service. Omg.. and I almost accidentally kissed the Service Tech tho bc we were having a good conversation, and I said goodbye and almost kissed him like I knew him forever. But thats not why I'm saying they are the best... they took good care of my Honda, and respected my requests. Love this place!! 5 stars!!
Our salesperson Pablo was great to work with. He was friendly and personable. I appreciated his honesty and he never tried to push us to add on things that we didn't want once we said no. He helped us find the perfect truck for us and we couldn't be happier!
One of the sales manager, Dave, was extremely helpful and open. He had a good mindset when it comes to business by being transparent and having a "playing no games" mentality. I would go back to do business with Dave and would recommend for the overall customer experience. I would highly recommend Manchester Honda to anyone interested in buying cars whether they be family, friends, or colleagues. The service, professionalism, and honesty they've provided makes me feel good enough to want to go back for business anytime.
Dave is great. Buy all our vehicles here over last 15 years.
The best experience buying a car. Ask for Dave Babella. He's incredibly competent, exceedingly patient, and will make you feel like royalty. No one can compare to him. Don't miss out on your chance to experience quality at its best.
I cannot express how happy i feel buying my car here at Manchester Honda. Isabeliz "Izzy" took very good care of me and my wife; felt like i was purchasing a vehicle from a family member. My old car crapped out the night before but she the made her job look very easy and did it swiftly. In a few hours i was sitting in my brand new Honda Civic Touring in Sonic Grey pearl. God Bless Her and this Dealership for treating their customers so greatly.
Friendly and knowledgeable Good work area with cubicles and wifi
I went to five different Honda dealerships, and the reason I chose to buy a new Accord from Manchester Honda was Verón, the sales consultant who helped me out. Of all the people I talked to in two weeks of shopping for a car, he was the only one who was transparent and up front about everything, and the only one who was interested in making sure all my questions were answered. This was the first time I've bought a new, rather than used, car, and I was a little clueless, but he was very patient and considerate. If he's representative of the people who work at Manchester Honda, I'll be going there for all my car related needs from now on.
I have always come here for oil changes and routine maintenance for my CRV. Recently I had a small dilemma regarding my tires. I came in and spoke with their manager Matt. He explained the problem and cost to me thoroughly which I appreciated a lot. Not everyone knows a lot about cars, even something seemingly trivial to the people working there. Ultimately, Matt was able to resolve my issue and saved me a good chunk of money as well. I left there a satisfied customer. Thank you!
The department I was visiting very nice customer service
Mark Allen was great. Nice heads up for the paperwork at city hall it was the first thing they asked for. We would recommend Mark to everyone. And the young man who worked with him too was great I believe it was Celvin, I am sorry senior moment he was the young man with the adorable freckles. Both men were helpful ,informative and friendly. Thank you both! Lynda and Michael Katomski P.S. we love the car!
Just bought a car at Manchester Honda last week. Have a good experience. Dave was the man. So patient and take good care of me. Pretty good guy.
We have been buying cars from Manchester Honda since 2000 (1 Accord, 3 Civics and a CRV). They are easy to do business with (no haggle pricing for car purchases) and have an honest service department. We have been very satisfied with this business.
(Translated by Google) nice cars (Original) Bonito los carros
I have bought cars and had service from Manchester Honda for 20 years. They have always been great to deal with. They are honest, efficient, and do great work.
The sales team is quite helpful and patient as I went through the month-long process of finding & deciding on my new vehicle.
Honda Service Center
Our factory-trained technicians keep your car running at its best.
Schedule Service
Welcome to

Manchester Honda

At Manchester Honda, we work with you to provide a top-of-the-line car-buying experience. From our incredible sales staff to our expert Honda finance team, we will help you get behind the wheel of the new or pre-owned Honda you've been eyeing. Come to our Honda dealership in Manchester, CT, today and find your next vehicle!

When you come to Manchester Honda, know that you have a plethora of options. Peruse our new Honda inventory and find the vehicle that fits your needs. If you're in the market for a new sedan, take out the new Honda Accord or Civic for a test-drive. If you need a more spacious SUV, then buy or lease a Honda CR-V or Pilot. For you truck lovers, we have the Honda Ridgeline, too. If you'd prefer a used Honda, you can drive home a reliable pre-owned car that's right for you. Do you want a different make? We have a wide range of vehicles for you to choose from when you visit us today.

After you've found the car that you want, come speak with our Honda finance team. You can plan out your buying or leasing options and ask our experienced staff any questions you may have. Have yet to establish a sound credit history? No problem! We've got you covered at our Connecticut Honda dealership. After you've mapped out your financing, know that our dealership is there for all your needs -- and that includes routine maintenance down the road. We will be there for you when it's time for repairs with our Honda service department, and you can buy OEM Honda parts from us, too!

Come to Manchester Honda at 24 Adams Street in Manchester, CT, for the ultimate experience. We're your top resource for exceptional Honda sales, service and parts. Whether you're coming from South Windsor, East Hartford, Glastonbury, Newington or farther out, we're here to serve you. Visit us today!

Contact Us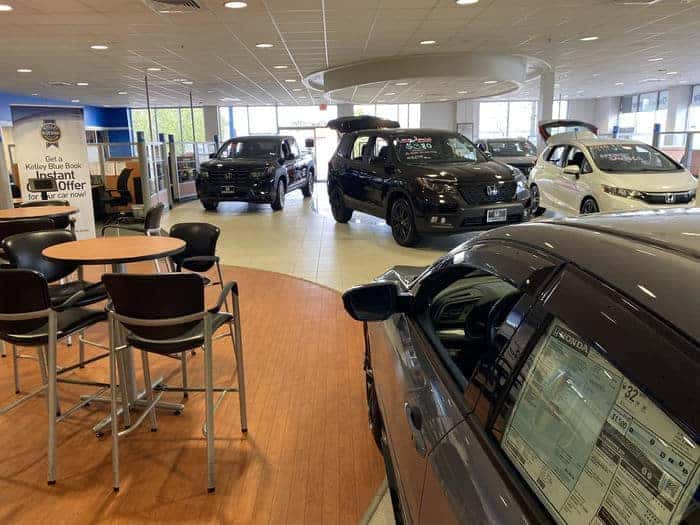 Get Directions
We are located at: 24 Adams Street Manchester, CT 06042