Discover Manchester Honda
When You're Ready. We Will Be Here. Online or In-Person.
very good service bill was great we bought a nice KIA sorento black from him amazing he should be promoted to the top very impressed with the service he gives
I had the best experience buying a car here. Affordable vehicles, great interest rates, experienced sales personell (Vroom is the BEST). So happy! Thank you Manchester Honda.
Thank you so much Tom Graham you took care me excellent customer service any questions that I had he answer them and I was very pleased.....☺️☺️☺️��
This is an unconventional review in that we did not buy our most recent car at Manchester Honda - but we wish we had! We were thinking of buying a Toyota this time just for something differen, but got fed up with the pushy, sleazy salesmen we had to deal with at the toyota dealership and were discouraged at the entire process. We had a very good experience with Manchester Honda the last time we bought a car and decided to go back there for that reason, especially because of the no haggle experience. We worked with Eli Mara who was a breath of fresh air. He was respectful, and answered all of our questions without the added extra pressure that is so distasteful. We found a used car that we liked, but it did not have a navigation system, which we wanted. We decided to think it over. Again, Eli was kind and truly made us feel like he was interested in helping us find a car that would make us happy, as opposed to just getting a sale. We were prepared to go back to buy the car, when my husband happened upon another car that had all the features we wanted that had just come in at another Honda dealership. Total luck. We felt like we had to check it out, especially since they too had a no haggle policy. We figured there would be no difference in the experience. It turned out to be the car we bought - but the experience at the other dealership was HORRIBLE. Too many issues to go into - but for one, the salesman tried to sell us add-ons that were already on the car. A total sleazy experience. Although we really like our new car, we already decided will not be going back there for any of the servicing. We believe in rewarding customer service so because of our past history with Manchester Honda, and especially our experience with Eli, we plan to have all of our servicing of our new Honda done at Manchester Honda. I also told Eli, that we will be in the market to replace another car in a year or so - we plan to buy from him - wherever he is. We learned our lesson - this time we plan to give ourselves more time to look - and will let Eli know what we are looking for so he can be on the lookout for what we want, instead of just settling for what is in current inventory. That is how much we liked dealing with Eli. If you are looking for a stress-free car buying experience and someone who is interested in making sure you get what you need, I recommend Eli at Manchester Honda. And no, I did not know him prior to this experience.
We purchased a new Honda Civic at Manchester Honda recently. It was a pleasant and smooth process to buy the car that was right for us. We appreciate Manchester Honda's "plain and simple pricing". Our salesperson, Dan Jorgensen, was very friendly, helpful, and professional. We definitely recommend him as a salesperson.
Our car buying experience was amazing, positive, and genuine. Dustin Kerr was our salesman. He was excellent, he made things so hassle free, he was upfront, honest, and knowledgeable. He took his time to explain different options as well as ensuring all aspects of new car sale was handled meticulously. Dustin we are grateful for your time and assistance, we definitely recommend both Dustin Kerr and Manchester Honda for excellence and service.
Jack Doyle was very easy to work with, explaining my lease options and no surprises when I picked up my car. I made my appointment with him for a Friday afternoon; the paperwork was ready and waiting. I signed for the car, was given a brief overview and drove away in record time. Overall a very good experience.
I came to get an oil change un-scheduled. The oil change was done quickly and correctly to my satisfaction. The mechanic came in and reviewed everything with me before letting me leave the building.
I Always receive excellent service, staff is friendly and helpful. I will be back and definitely will recommend Manchester Honda to my friends and family.
3rd civic new in 7 years. Always a good experience from ( sales Ellen)) to excellent service. I would highly recommend. Honda to a friend. Thanks again Robert.
The Service is always courteous and prompt. The technician, Ed, gave a through explanation of the work to be done. The waiting room is nice too
Excellent customer service and friendliness. I met Wes as soon as I came in and he was very helpful and informative. He did and excellent job
We like the no haggle pricing, straight forward, easy to understand paperwork, non-aggressive sales style, welcoming environment and low bottom line prices. If you enjoy spending hours of haggling and having salespersons crawling all over you pressuring you to buy, this isn't the dealership for you. I highly recommend Manchester Honda.
When I arrived I was taken in right away. The service person was very helpful. He checked it out and went over everything that I wanted to be done. He was very friendly and had a wonderful smile that made me feel comfortable with letting them work on my car. I just got the car home and everything seems to be great. Thanks to all
Manchester Honda is a great dealership. Anytime I bring my car in for servicing, the service tech are always friendly and helpful. I bought my car here 9 years ago and it is still going strong thanks to the excellent service I have received.
I bought a new Civic from Ellen Crawford 3 years earlier, and she made it such a pleasant, no-hassle experience that when we were ready to trade our 11 year old SUV, she was our first choice. We stopped in unannounced one day just to look around because we were in the area. Ellen was very gracious, and spent the entire time before her next appointment to find us the perfect used vehicle with the room we needed, a 2013 Odyssey. When it was time to pick up the car, everything went like clockwork. It couldn't have been easier. And the icing on the cake was that the value of my trade went up about $230.00, so I got a refund! It would have been very easy for them to omit that fact, but they didn't. This is just one of the many reasons I will be coming back to Manchester Honda!
This is the best car dealership I have ever worked with. Always professional, friendly, and very importantly, honest and with integrity. From the moment you drive into the service bay to the time you checkout to pay, the experience is smooth and effortless.
Service Tech greeted me promptly and was very helpful. I have a Guiding Eyes puppy that I am training and who was with me. He treated me and the puppy with respect. He also called to let me know of the car's status and what else could need to be done soon.
I'm writing this review a few years late, but wanted to let the world know what a joy it was to work with TJ in picking out, test driving, and purchasing my Civic. He is professional, personable, knowledgeable and overall a pleasure to work with. Thank you for such a wonderful experience, looking forward to coming back to Manchester Honda in the future. TJ Rocks!
Work on my Honda Accord was completed as promised and on time. Service advisors and cashier were helpful and kept me informed of progress of work.Thanks.
Manchester Honda's "no haggle" policy was just the beginning of a thoroughly enjoyable and informative car buying experience. Dave Babella was patient without being condescending in guiding me through the process of buying my new 2016 CR-V and Kim was thoroughly knowledgable in explaining the many features of the car. I would (and will) recommend Manchester Honda to friends and family looking for a new or used vehicle.
This was my first purchase at Manchester Honda. My salesman was Dan Yorgensen. I dreaded the idea of buying another car. The trade in, the haggling, the finance manager. When I walked into Manchester Honda and spoke to Dan he told me right off the bat that none of that would occur. I decided on a car. Got approved for it, then found another Honda I wanted more for a little more money. Dan was so good about it! I felt so bad! No problem though. Dan took care of it and I drove it home the next day! I am so impressed I will never do business with another dealership again! Best experience ever! Thank you so much!
I took my 09 Honda into the service dept and as always , had work done on time ,received a call from the dept.that my car was ready....and left as a happy customer of Manchester Honda......
This is the 4th car we have purchased at Manchester Honda. No pressure and great service seal the deal. We will be back for more.
It's nice to be greeted so professionally, quickly and the service is always the best. My car needed the recall but also had another issue which could not be handled during this visit but was very clearly explained to me. No hesitations bringing my car in.
Honda Service Center
Our factory-trained technicians keep your car running at its best.
Schedule Service
Welcome to

Manchester Honda

At Manchester Honda, we work with you to provide a top-of-the-line car-buying experience. From our incredible sales staff to our expert Honda finance team, we will help you get behind the wheel of the new or pre-owned Honda you've been eyeing. Come to our Honda dealership in Manchester, CT, today and find your next vehicle!

When you come to Manchester Honda, know that you have a plethora of options. Peruse our new Honda inventory and find the vehicle that fits your needs. If you're in the market for a new sedan, take out the new Honda Accord or Civic for a test-drive. If you need a more spacious SUV, then buy or lease a Honda CR-V or Pilot. For you truck lovers, we have the Honda Ridgeline, too. If you'd prefer a used Honda, you can drive home a reliable pre-owned car that's right for you. Do you want a different make? We have a wide range of vehicles for you to choose from when you visit us today.

After you've found the car that you want, come speak with our Honda finance team. You can plan out your buying or leasing options and ask our experienced staff any questions you may have. Have yet to establish a sound credit history? No problem! We've got you covered at our Connecticut Honda dealership. After you've mapped out your financing, know that our dealership is there for all your needs -- and that includes routine maintenance down the road. We will be there for you when it's time for repairs with our Honda service department, and you can buy OEM Honda parts from us, too!

Come to Manchester Honda at 24 Adams Street in Manchester, CT, for the ultimate experience. We're your top resource for exceptional Honda sales, service and parts. Whether you're coming from South Windsor, East Hartford, Glastonbury, Newington or farther out, we're here to serve you. Visit us today!

Contact Us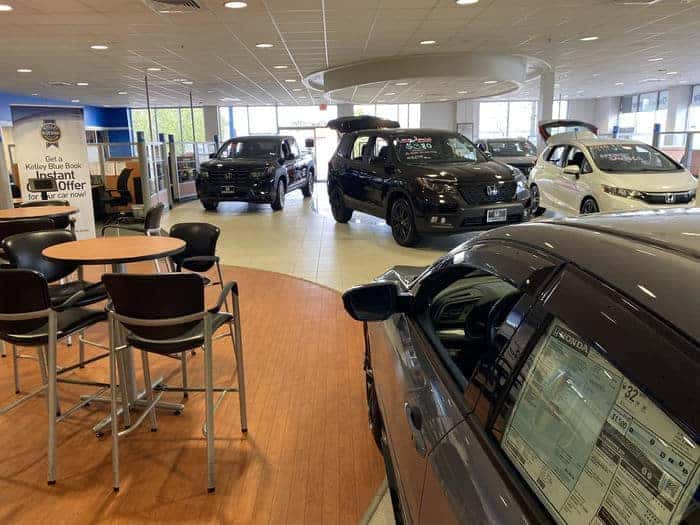 Get Directions
We are located at: 24 Adams Street Manchester, CT 06042