National Teen Driver Safety Week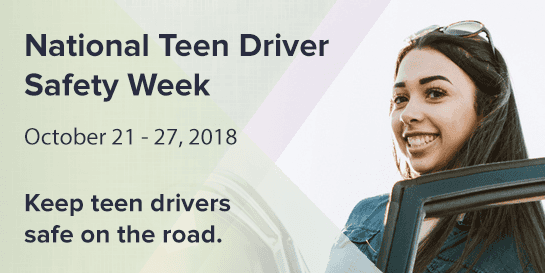 In honor of National Teen Driver Safety Week from October 21-27, Manchester Honda wants to remind parents to have conversations with their teens about safe driving.
This week and every week, parents should have conversations with their teens about the important rules they need to follow to stay safe behind the wheel of a vehicle. These rules address the greatest dangers for teen drivers, which include: alcohol, inconsistent or no seat belt use, distracted and drowsy driving, speeding, and number of passengers.
The Problem
According to the National Highway Traffic Safety Administration, motor vehicle crashes are the leading cause of death in teens (15 to 18 years old) in the United States, which is ahead of all other types of injury, disease, or violence. In 2016, 1,908 drivers aged 15 to 20 years old died, according to the NHTSA. That is a 2.1 percent increase over 2015.
Distracted Driving
Distracted driving is one of the fastest growing safety issues on the road today. What's worse, is that distracted drivers aren't just a threat to themselves, but they're also a danger to everyone else on the road. Cell phones are one of the leading distractions.
One in three teens who text say they have done so while driving. Did you know that research has found that dialing a phone number while driving increases your teen's risk of crashing by six times, and texting while driving increases the risk by 23 times. Ultimately, talking or texting on the phone takes your teen's focus off the task of driving, and significantly reduces their ability to react to a roadway hazard, incident, or inclement weather.
Seat Belt Use
Parents need to also remind their teen drivers that wearing a seat belt could make the difference between life and death. In 2013, over half of teens (ages 15-19) killed in crashes weren't wearing a seat belt. Parents should also lead by example, by wearing your seat belt at all times, putting down the phone, and slowing down.
Manchester Honda Cares
During National Teen Driver Safety Week, take the time to sit down with your teen drivers to review the importance of being safe behind the wheel. Manchester Honda hopes that you take this opportunity to talk with them, and set aside some time to take your teen driver on practice driving sessions. It can be a great way to spend time together.  Finally, make sure to keep the conversation about safe driving going regularly to help ensure that your teen driver stays safe out on the road.
Consumer Reports has a list of recommended new and used vehicles for teen drivers. On Consumer Reports best new and used car list for teens, consider checking out the Honda Accord, CR-V, Fit, and HR-V. As always, if you would like to learn more about these Honda vehicles or schedule a test drive, give us a call at 860-645-3100.