CARA Cookout For The Troops at Manchester Honda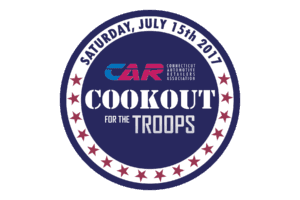 On Saturday, July 15th from 11am-2pm, Manchester Honda will be firing up the grills for a day of food and fun for all ages, to support our Connecticut's military members, their families, and the organizations that support them!
Connecticut new car dealers are on a mission this summer to raise funds and awareness for our troops. Save the date, and come out to our CARA Cookout for the Troops event for family Cookout fun! We'll donate 100% of the proceeds raised to local troops and their families.
We look forward to seeing you, your friends, and family on July 15th! Read on to learn more about CARA, the Connecticut National Guard Foundation, and the USO.
About CARA
CARA stands for The Connecticut Automotive Retailers Association. The organization, as well as the Connecticut's new-car dealer association-and its dealer members have partnered with the Connecticut National Guard Foundation and the USO Connecticut's military programs and services to host the Cookout for the Troops community fundraising events.
"What do all dealers have in common? This summer, on July 15th, nearly 50 dealers will be firing up their grills to host cookout fundraisers in support of these organizations that help more than 34,000 local troops and military families, said CARA President Jim Fleming. "Dealers play such an integral role in their communities; they're truly the pillar of their towns and can rally support from their neighbors like not many can."
CARA's History
Founded in 1921, The Connecticut Automotive Retailers Association is a statewide trade association representing over 370 franchised new car and truck dealerships, primarily engaged in the retail sale of new and used motor vehicles, both foreign and domestically produced. The GHADA dealer foundation has given more than $1 million dollars to worthwhile Connecticut charities since its inception in 1987. To learn more about CARA, visit www.ctcar.org
About The Connecticut National Guard Foundation
The Connecticut National Guard Foundation, Inc. is a private nonprofit corporation organized for the purpose of providing temporary, need based, financial assistance for the Connecticut National Guard and Organized Militia.
The foundation provides benefits such as clothing, food, medical and surgical aid, and general care and relief.
About USO Connecticut
For over 75 years, the USO has been the nation's leading organization to serve the men and women in the U.S. military, and their families, throughout their time in uniform. From the moment they join, through their assignments and deployments, and as they transition back to their communities, the USO is always by their side.