Our Honda Service technicians are capable of handling all of your service needs, from tires to brakes, or completing your oil change or changing your battery. Here are some vehic basics so you can know when you may need to schedule service for your vehicle.
Maintaining Your Tires
There are many factors that cause tire wear, such as your driving style and tire maintenance habits. Tire replacement is absolutely necessary when the tread wear indicators appear. A tire's built-in tread wear indicators look like narrow strips of smooth rubber across the tread and becomes visible as the tire surface wears.
Rotating your tires is one of the most important maintenance routines that you can do. According to the recommended maintenance schedule for a new Honda, a tire rotation is due every year or every 7,500 miles, whichever comes first.
Check Your Tires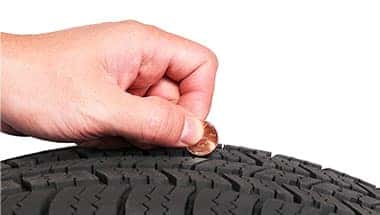 A quick and easy way to check your tire wear is with a penny. Place a penny upside down between the tire tread. If you can see the top of Lincoln's head, the treads are worn and your tires need to be replaced.
When to Replace Your Tires
Tread wear indicators appear when your tires only have 2/32 inch or less of tread remaining. Rubber tires ages over time. Other warning signs include:
You can tread or more tread wear indicators around the tire
The tire cord or fabric is showing through the rubber
The tire tread or sidewall is cracked, cut, or snagged deep enough to show cord or fabric
The tire has a bulge or split
The tire has a puncture, cut, or other damage that can't be repaired or plugged
How Long Do Brake Pads Last?
Generally speaking, brake pads are thought to be good from anywhere between 30,000 to 35,000 miles. Yet, the real answer to how long brake pads last will vary from vehicle to vehicle, and drive to driver.
If you drive in heavy commuter traffic, you'll be engaging your brakes a lot more frequently than someone who drives in rural locations or on highways.
When to Replace Your Brake Pads
Do you and other drivers hear noise when you start to brake? Do you feel your brakes grinding, vibrating or pulsating when you press down on your brake pedal? If you are noticing any of these things, you may want to schedule a service appointment.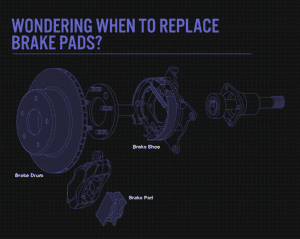 Oil Change Schedule
To find out how often you actually need an oil change, you should consult your vehicle's owners manual.
If you own a newer Honda, Honda recommends that you change the oil in your new Honda every 7,500 miles or every 12 months, whichever comes first. You should never, under any circumstances travel more than 10,000 miles without changing the oil, as that can be very damaging to your engine and your car in general.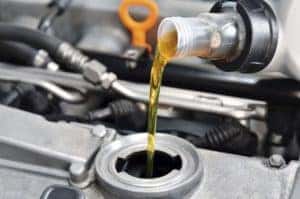 Time to Replace Your Car Battery?
No matter how well you treat your vehicle, car batteries still wear out every few years and need to be replaced. Here are some warning signs that your battery may be on its way out:
Slow engine crank: When you attempt to start your car, the cranking of the engine is sluggish and it takes longer than normal for your vehicle to start.
Check engine light: The check engine light sometimes appears when your battery power is weak.
Issues with electrical components: Aside from powering the engine, the car battery also needs to provide power to run all the various electronic components in your vehicle.
Old age: On average, a car battery lasts about four or five years. When you hit the 4-year mark, it might not be a bad idea to get it tested by a professional.
As you can see, to keep your vehicle in tip-top shape, it's very important to complete regular maintenance. If you have any questions or concerns about your vehicle, feel free to contact our service department at 860-645-3110.