How To Avoid Flooded Cars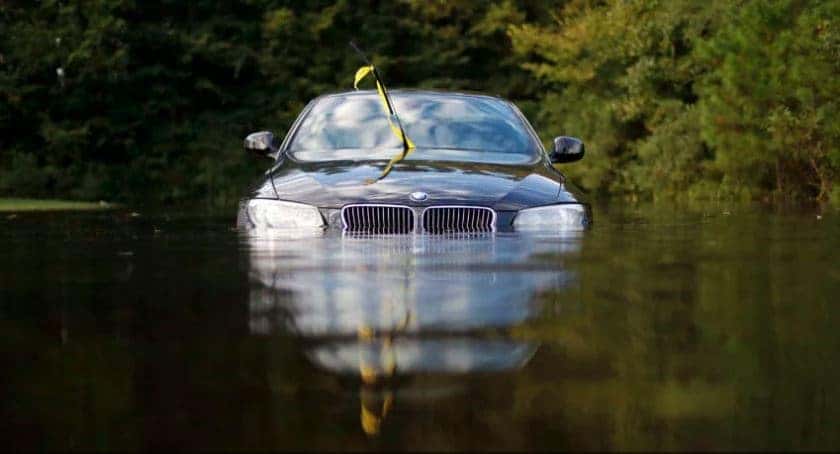 In the wake of Hurricane Florence, Manchester Honda wants to remind consumers to be on the lookout for flooded cars. Kelley Blue Book Chief Economist Jonathan Smoke estimates that 20,000 to 40,000 will be total losses due to the hurricane. It is important to keep in mind that flooded cars could be shipped to the northeast. The remnants of Hurricane Florence also spread torrential downpours and flash floods across Massachusetts earlier this week.
At Manchester Honda, we provide a free Carfax report on every pre-owned vehicle that we offer. Aside from checking out the vehicle's title history, there are some other ways to ensure a car wasn't flooded. Although water damage can be hard to detect, Consumer Reports recommends that you look for some telltale signs:
How to Spot a Flood-Damaged Car
Inspect the carpets: Check to see if they show any signs of having been waterlogged, have a musty smell, or have caked-on mud. Brand-new carpets in an older vehicle may also be a red flag.
Check the seat-mounting screws: See if there is any evidence that they were removed. To dry the carpets effectively, the seats would have been removed and possibly even replaced.
Inspect the lights: Headlights and taillights are expensive to replace, and a visible water line may show on the lens or reflector.
Inspect the difficult-to-clean areas: Look in the gaps between panels in the trunk and under the hood. You may find waterborne mud and debris in these places still.
Turn on all the power options: Check the windows, locks, wipers, AC, and make sure they all work.
Listen for a "crunchy" sound: You may notice this when you move the seats forward and back. It could be a sign that sand or dirt made it into the car.
Search around the engine compartment: Water lines and debris can appear in hard-to-clean places, such as behind the engine.
Look at the heads: Check out any unpainted and exposed screws under the dashboard. Unpainted metal in flood cars will show signs of rust.
Check the rubber drain plugs: Look under the car and on the bottom of doors to see if the rubber drain plugs have been removed recently. They may have been done to drain floodwater.
If you notice any of these signs while inspecting the vehicle, experts recommend not buying the car. The National Insurance Crime Bureau and Carfax also offer free flooded car checks.
Hire a Mechanic to Take a Second Look
If you are skeptical or want a second opinion on whether the vehicle you are interested may have been damaged in a flood, you can always take it to be inspected by a certified diagnostic mechanic. Make sure to choose an ASE-certified mechanic. They can put the vehicle on a lift and give it a thorough inspection.
We hope that these tips on spotting flooded cars will help you avoid them if you're in the market for a used vehicle. If you have any more questions, give us a call at 860-645-3100.